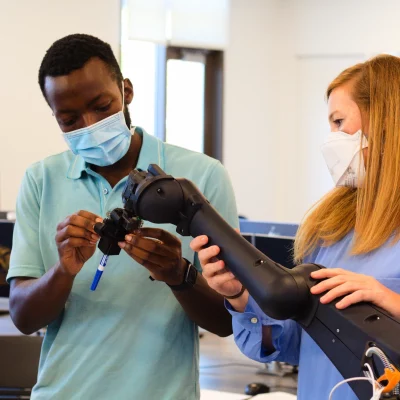 Out of deep respect for educators, Archytas founders Ryan Polk and Karen Caswelch knew they wanted to reach the robotics educational sector somehow. This unknown path would create a way to help people thrive through automation and prepare the next generation of manufacturing workforce.
In April 2021, I was hired by Ryan and Karen to lead these educational efforts. My passions for people, engineering, and STEM education align perfectly with the vision of Archytas and creating opportunities for more people to be exposed to robotics.
When I began with Archytas, we didn't have a clear vision for where the educational side could go. We had many ideas, but with a blank canvas and an unclear roadmap, we began by listening. We reached out to K-12 teachers, community college instructors, and university professors. We researched industry needs and connected with robotics and automation industry leaders. The more we listened, the more we learned about the massive "skills gap" within our country. That is when our path became clear: Archytas will help bridge this gap.
To gain a better understanding of the skills gap and the lack of preparedness within manufacturing companies, particularly those that use robotic arms, Archytas surveyed hiring managers. Over 100 of these managers who use robotic arms in their processes shared very valuable insight with us.
Archytas found that 87% of robotics hiring managers wished their new employees had more training prior to employment, and furthermore, over 71% of these managers look to community colleges for trained individuals.
Not only did we find these numbers to be astounding, but we also realized that our focus should be to help community colleges with these industry needs.
Beginning with our local community in Orange County, we have networked with community college educators and industry professionals. Because we have listened, we have learned the value that robotics education can bring to community college students and industry alike. In addition to the hardware, educators also want content. The equipment is great, but how do they use that equipment in their existing curriculum?
Alongside educators and robotics professionals, Archytas has developed, and continues to expand, an educational platform that allows educators to enhance their teaching through robotics tools. With the hardware, software, and labs associated, the Archytas educational program is meeting educators where they are in their curriculum and assisting in furthering the development of their students through hands-on, real-world applications using robotic arms.
Our mission is to help people thrive through automation, and one way we are doing that is through education.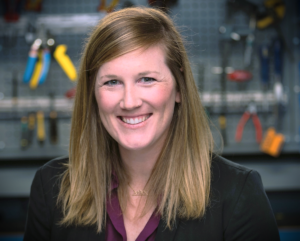 Laura Armstrong is the Director of Education Strategies at Archytas. Connect with her to learn more about how Archytas can help you and your robotics education programs. She can be reached at laura.a@archytasinc.com.